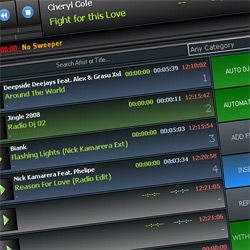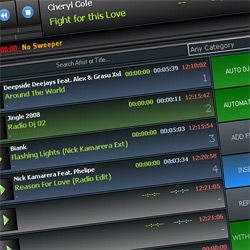 RadioDJ is een gratis internet radio automatiseringsprogramma voor de PC (Windows). Wij hebben versie v0.1.6.0 op Windows 7 kort getest en ziet er mooi uit,  binnen 15 minuten hadden we onze muziek draaien met random rotatie. Het programma is nog wel zwaar in ontwikkeling en met onze installatie kwamen we ook al kleine fouten tegen. Na de installatie kregen we een fout melding dat we geen rechten hadden om de settings te veranderen. Dit was snel terug te vinden via het forum en op te lossen om het programma als "Administrator" te laten draaien.
Er zit nog geen encoder programma in om een stream aan te sturen naar bijvoorbeeld SHOUTcast of Icecast. Dit kan je snel oplossen om Edcast of Sam Cast te gebruiken als encoder. Ook de titel info kan je laten werken, het forum helpt je daar mee op weg. Zie hier meer informatie.
Let op, net zoals Sam Broadcaster heb je MySQL server nodig. Dit is niet echt heel moeilijk maar je moet dit wel hebben draaien voordat je RadioDJ gaat installeren.  Met MySQL noteer je je root  account gegevens, deze heb je later nodig bij RadioDJ.
Zo te zien is dit geen Sam Broadcaster killer, maar wel een erg mooie gratis oplossing voor beginnende internet radio station.
Zie hier de mogelijkheden in het kort, voor de hele lijst klik dan hier:
24/7 full automation for your station;
Compatible audio formats: mp3, wav, wma, aac, flac, ac3;
Automatic Gain Control (AGC) for normalizing "on the fly" the playing tracks;
Custom song and jingle rotations wich can be loaded and saved anytime;
Auto-DJ function, based on category and subcategory rotation;
Unlimited categories and subcategories for your music, jingles, sweepers etc;
Unobstructive cue points for any track (start, intro, preview in, preview out, outro and end);
Automatically overlap sweepers over intro;
Advanced scheduler for events (radio shows, advertisements etc);
Integrated advanced search, by artist, title, category, subcategory and genre;
Dit is een pure tip, wij geven geen support op deze software.