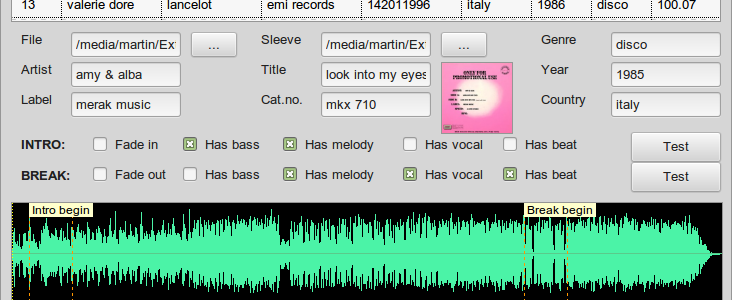 Mart Mix Productions heeft nieuwe innovatieve auto DJ and radio automation software uitgebracht, genaamd Smart Mix Player. Hiermee kunnen audiobestanden als een non-stop mix worden afgespeeld. Een ideale tool voor radio stations die non-stop muziek afspelen en ook zeer bruikbaar voor een feest of het maken van een mix tape.
Ontwikkelaar Martin Verlaan legt uit wat Smart Mix Player zo uniek maakt:
"Smart Mix Player werkt anders dan traditionale auto-DJ software. De meeste players mixen tracks aan elkaar door het geluid uit en in te faden. Smart Mix Player mixt songs echter precies op juiste moment en doet dit in de maat van de beat.
Volgens Martin is de software bovendien erg geschikt voor beginners omdat het minder complex is dan andere DJ software. Het enige wat gedaan moet worden is het vooraf plaatsten van cue points en Smart Mix Player mixt vervolgens de tracks automatisch aan elkaar.
Het is perfecte software voor mensen die een online radio station met non stop muziek willen beginnen of om gewoon een coole mix voor een party samen te stellen", zo vertelt Martin. "Het werkt makkelijk en snel en de mix klinkt zeer professioneel. Daar kunnen sommige DJ's nog wat van leren".
Smart Mix Player heeft een aantal interessante mogelijkheden:
Tracks worden op het juiste moment aan elkaar gemixt.
De ingebouwde beat matching houdt de beats in sync.
Beats van één plaat worden tijdens een overgang gefilterd
Tracks kunnen op hetzelfde volume worden afgespeeld
Vaste en willekeurige playlists zijn mogelijk
Overgangen klinken harmonieus, zo kan o.a. worden ingesteld dat verschillende vocalen of melodieën niet door elkaar worden gemixt.
Aan de mix kunnen jingles worden toegevoegd
"Het is een set-and-forget system," vervolgt Martin. "Zodra je een database met tracks hebt gemaakt en alles naar wens in de player hebt ingesteld kun je keer op keer genieten van professioneel klinkende mixen met steeds andere overgangen".
Over Mart Mix Productions Mart Mix Productions produceert sinds 1995 mixen voor radio stations en platenmaatschappijen. Eigenaar Martin Verlaan heeft dus veel ervaring met het vervaardigen van mixen. Zijn grote voorbeelden zijn Ben Liebrand en Peter Slaghuis.
Tegenwoordig focust hij zich op het ontwikkelen van DJ software en probeert hij hierin zijn vaardigheden te verwerken.