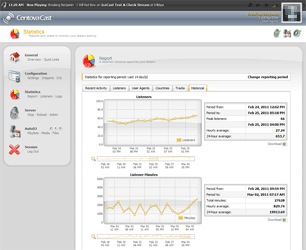 Centova Cast is een streaming platform waarin je veel mogelijkheden hebt om dingen zelf in te stellen, dit in combinatie met Icecast of SHOUTcast versie 1 of 2.
Ook is er een mogelijkheid voor AutoDJ, je kunt via FTP of via een webinterface je mp3's uploaden.
Sinds een aantal maanden is de nieuwe versie van Centova Cast uit, dit is versie 3.
Belangrijkste veranderingen zijn:
Support voor accounts voor live uitzendingen.
SHOUTcast v2 (meerdere streams op 1 account mogelijk).
Voor de AutoDJ functie kan je ook streamen met AAC+ en tegelijkertijd met mp3 formaat.
Meerdere mountings points mogelijk in Icecast (fallback).
Verbeterde statistieken/grafieken.
 Meerdere album cover keuzes zoals: Last.fm en Itunes.
Voor AutoDJ kan je nu ook files uploaden via de webinterface.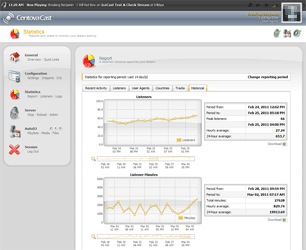 Bekijk op live-streams.nl hoe je met de AutoDJ functie je geluid en overgangen kunt optimaliseren. Via Live-streams.nl kan je gratis een test account aanvragen.